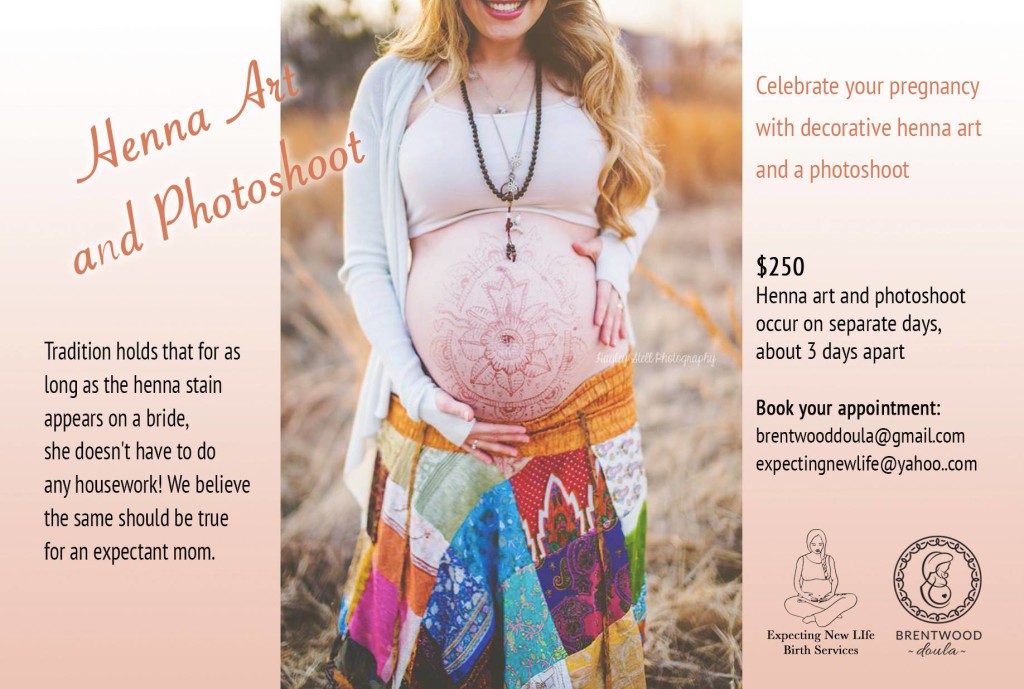 Pregnant in the Nashville area? I'm excited to be partnering with Brentwood Doula and Photographer, Amber Mohr, to bring you this wonderful prenatal henna + photoshoot package. Only $250 for both. It's a beautiful thing!
One of the things that attracted me to prenatal henna work is that it's temporary.  Belly casts are another popular way to celebrate pregnancy, but some women are turned off by both the permanence of it and how intimate it is.  (Do you really want a full-size plaster cast of your belly and bust to carry around forever?)
Henna creates a stain on the skin that lasts anywhere from 1-3 weeks.  It's on the belly and can be covered by your clothes, meaning it is only exposed if you choose to show it.  At the same time, it adds a sort of coverage to the belly that makes it appear less "naked" when having photos taken, a factor that sometimes is awkward for moms taking maternity pictures.
A prenatal henna session can be done privately with only mom and the henna artist present or it can be part of a small gathering of close friends and family.  It's the mother's choice.  In either setting, mom gets a couple of hours to be still, be pampered and simply relax.  What better reason do you need?
To schedule your henna + photoshoot session, contact me here to get the process started.
*Photo + henna promo expired December 2015. Henna sessions still available.

Posted by Instagrate to WordPress / October 7, 2015