Recently Featured on VBAC Facts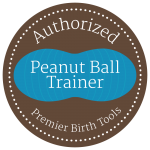 As an Authorized Peanut Ball Trainer, I bring comprehensive Peanut Ball Skills workshops to birth professionals in the Greater Nashville region and across the country.
Birth Doulas, Childbirth Educators, Nurses, Midwives and OBs will all benefit from attending this continuing education event. Contact me today about hosting a training for your team. Private group and travel rates available upon request.
---
I met Heidi professionally almost five years ago.  I've learned in that time frame that her knowledge and passion for birth is endless!  When I discovered she was teaching workshops to other birth professionals, I knew I had to enroll in a class. 
I attended her Peanut Ball Workshop at the beginning of the year and was not disappointed!  I left more knowledgeable and confident in using the Peanut ball with my own clients.  Heidi presents the information and demonstrates techniques in a way that makes it easy to understand and remember. 
If you're thinking about attending one of her workshops, quit thinking about it and go for it!!  You won't be disappointed.
- Kim W.
What if I told you there was a nursing intervention that was affordable and easy-to-implement that would improve patient satisfaction and improve labor outcomes, including reducing cesarean rates? Too good to be true? Not at all.
Enter the peanut ball.
This uniquely shaped physical therapy ball has become a favorite tool among labor support professionals in recent years. You may already have peanut balls available in your L&D unit, but have your staff been trained in how to properly select a peanut ball size according to patient needs? Have they done more than watch videos to learn positions, even the best of which fail to fully convey the body mechanics at work?
Bring your team up to speed in 2023 by bringing the Peanut Ball Skills training to your hospital, birth center, nursing staff, midwifery team or doula group!
Upcoming Workshops
Saturday, April 22, 2023
Memphis / Midstate
Saturday, June 10, 2023
Nashville
TBA
Montgomery, AL
Atlanta, GA
Long Beach, CA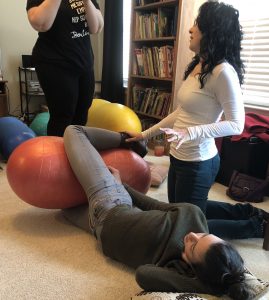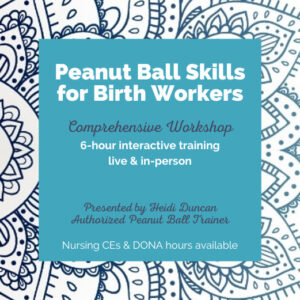 Peanut Ball Skills For Birth Workers: Comprehensive Workshop
Presented by Heidi Duncan, Authorized Peanut Ball Trainer
IN-PERSON WORKSHOPS HAVE RETURNED!
Peanut balls originated in physical therapy settings, but are now widely used as a birth support tool.
How many peanut ball positions do you think there are? Do you know why and when to use them?
New content and expanded format for 2023! Get beyond simple side-lying and "the pretzel" during this workshop. Learn the many uses without an epidural as well as with one. (Yes, it's useful for home birth, too!) Understand how to select the proper size ball for the person and position. And much more!
This is an interactive learning experience with opportunities for return demonstration and skills check-off throughout the event. You'll leave with both physical practice and logical principles to guide your future use of the ball in every situation.
Overview
In the 6-hour Comprehensive Workshop, you will learn when and why to use the peanut ball, safety guidelines, Essential positions for laboring in and out of bed, posture cues, and keys for remembering the positions. You will then build upon the Essentials with another 15-20 Advanced positions for your toolkit, including those based on birth biomechanics principles working with fetal station and positions. AND SO MUCH MORE!
Upon completion of this workshop, attendees will be able to:
Recall essential factors of safe peanut ball use
Determine the appropriate size of peanut ball to use relative to the birthing person's body proportions
Choose the appropriate size of peanut ball to use relative to the position
Differentiate peanut ball positions to use for each level of fetal descent (inlet, mid-pelvis, outlet)
Discuss ways to add movement to otherwise stationary peanut ball positions
Identify peanut ball positions useful for special circumstances such as asynclitism, OP, breech
Discuss strategies for energy conservation using the peanut ball in labor and postpartum
FAQs
Nursing CEs will be available for an additional fee.
A limited number of equity seats will be available for BIPOC birth workers. Contact me for details.
If you select WAITLIST for an event, I'll be in touch when registration opens and you can pay your fee at that time. Please be sure your email is correct!
If you have questions, contact me at info@expectingnewlife.com.
Contact hours:
By attending this workshop and completing an evaluation and quiz, registrants will earn a certificate for 6 nursing contact hours. Amanda Irby is the course provider for this workshop. Provider is approved by the California Board of Registered Nursing, Provider Number 17690 for 6 nursing contact hours. Nursing contact hours can also be applied to most childbirth educator and doula certifications.
Refund policy:
Full refunds will be available for up to 14 days before the event. Requests made fewer than 14 days prior to the event will be subject to a $50 non-refundable processing fee. Tickets may be transferred to other attendees or to future workshops. Eligible refunds will be processed within 30 days of the scheduled event date. If the event is canceled, registrants will be contacted via the email address and phone numbers they provided when paying the workshop fee online and will be issued a full refund.