Recently Featured on VBAC Facts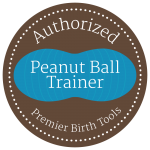 As an Authorized Peanut Ball Trainer, I bring comprehensive Peanut Ball Skills workshops to birth professionals in the Greater Nashville region and across the country.
Birth Doulas, Childbirth Educators, Nurses, Midwives and OBs will all benefit from attending this continuing education event. Contact me today about hosting a training for your team. Private group and travel rates available upon request.
---
I met Heidi professionally almost five years ago.  I've learned in that time frame that her knowledge and passion for birth is endless!  When I discovered she was teaching workshops to other birth professionals, I knew I had to enroll in a class. 
I attended her Peanut Ball Workshop at the beginning of the year and was not disappointed!  I left more knowledgeable and confident in using the Peanut ball with my own clients.  Heidi presents the information and demonstrates techniques in a way that makes it easy to understand and remember. 
If you're thinking about attending one of her workshops, quit thinking about it and go for it!!  You won't be disappointed.
- Kim W.
What if I told you there was a nursing intervention that was affordable and easy-to-implement that would improve patient satisfaction and improve labor outcomes, including reducing cesarean rates? Too good to be true? Not at all.
Enter the peanut ball.
This uniquely shaped physical therapy ball has become a favorite tool among labor support professionals in recent years. You may already have peanut balls available in your L&D unit, but have your staff been trained in how to properly select a peanut ball size according to patient needs? Have they done more than watch videos to learn positions, even the best of which fail to fully convey the body mechanics at work?
Bring your team up to speed in 2023 by bringing the Peanut Ball Skills training to your hospital, birth center, nursing staff, midwifery team or doula group!
I'd be happy to teach a workshop for you. For the Nashville community, I'm offering the Basic Ticket at a low rate and require 6 students minimum. You may choose to limit attendance by invitation only or open it to the public. I can offer a Pro Ticket option that includes laminated position charts for an additional fee. (The chart set has expanded form 2 to 5 recently.) If I am traveling to your city, we will negotiate a flat rate for me to teach each workshop that includes my speaker fee and travel accomodations.
Each participant will receive a Certificate of Attendance and a JPG badge image to use on their website and social media. I can apply for DONA or Lamaze continuing education credits upon request, which would add a bit to the ticket price. (There hasn't been enough demand as yet to justify going through the application process.)
The training I offer is broken up into two 3-hour sessions: Essentials and Advanced. Aside from a brief refresher at the beginning of the Advanced session, there's no overlap in content. You may opt to host only the Essentials or both Essentials and Advanced as one training. If both, I recommend planning a lunch break between the two.
The workshop doesn't require a huge space, but this is an active, hands-on training. Adequate room to move around and practice positions is important. A fitness studio classroom is ideal or even a large bonus room in someone's home will sometimes be large enough. I use a twin-size air mattress for practicing positions, so plan on the area that takes plus 4 or more inflated peanut balls, seating for 6-10 people, and of course, the people.
Contact me today to inquire about dates and rates!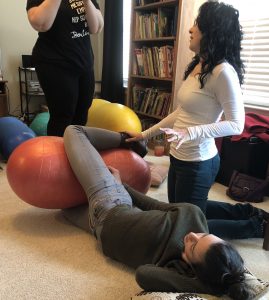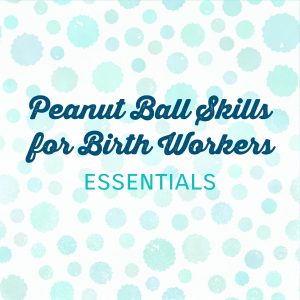 Peanut Ball Skills For Birth Workers: Essentials
Get beyond simple side-lying and "the pretzel" during this workshop. Learn the many uses *without* an epidural as well as with. (Yes, it's useful for natural births, too!) Understand how to select the proper sized ball for the person and the position and much more!
In this ESSENTIALS workshop, you will learn when and why to use the peanut ball, the 7 essential positions (plus a half dozen more!) for laboring in and out of bed, posture cues and keys for remembering positions, and more.
This is a 3-hour hands-on training where there will be opportunities for return demonstration and skills check-off.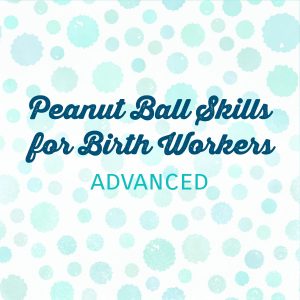 Peanut Ball Skills for Birth Workers: Advanced
We will examine more closely how positioning affects fetal descent, alignment cues for epidural clients, using multiple peanut balls at once, and more. There are over 40 peanut ball positions in use for labor as of 2019.
In this ADVANCED workshop, I'll build upon the dozen positions you learned in the Essentials workshop (a prerequisite) and cover 15-20 more, as many as time will allow.
Opportunities for return demonstration and skills check-off will be encouraged during this 3-hour training.