Recently Featured on VBAC Facts
As an Authorized Peanut Ball Trainer, I bring comprehensive Peanut Ball Skills Workshops to birth professionals in the Greater Nashville region and beyond.
Birth Doulas, Childbirth Educators, Nurses, Midwives and OBGYNs will all benefit from this continuing education. Contact me today about hosting a training for your team. Private group and travel rates available upon request.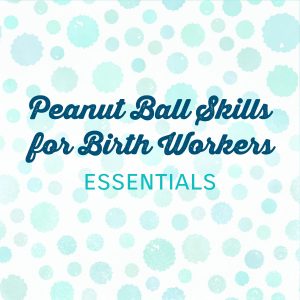 Peanut Ball Skills For Birth Workers: Essentials
Get beyond simple side-lying and "the pretzel" during this workshop. Learn the many uses *without* an epidural as well as with. (Yes, it's useful for natural births, too!) Understand how to select the proper sized ball for the person and the position and much more!
In this ESSENTIALS workshop, you will learn when and why to use the peanut ball, the 7 essential positions (plus a half dozen more!) for laboring in and out of bed, posture cues and keys for remembering positions, and more.
This is a 3-hour hands-on training where there will be opportunities for return demonstration and skills check-off.
Peanut Ball Skills for Birth Workers: Advanced
We will examine more closely how positioning affects fetal descent, alignment cues for epidural clients, using multiple peanut balls at once, and more. There are over 40 peanut ball positions in use for labor as of 2019.
In this ADVANCED workshop, I'll build upon the dozen positions you learned in the Essentials workshop (a prerequisite) and cover 15-20 more, as many as time will allow.
Opportunities for return demonstration and skills check-off will be encouraged during this 3-hour training.
What if I told you there was a nursing intervention that was affordable and easy-to-implement that would improve patient satisfaction and improve labor outcomes, including reducing cesarean rates? Too good to be true? Not at all.
Enter the peanut ball.
This uniquely shaped physical therapy ball has become a favorite tool among labor support professionals in recent years. You may already have peanut balls available in your L&D unit, but have your staff been trained in how to properly select a peanut ball size according to patient needs? Have they done more than watch videos to learn positions, even the best of which fail to fully convey the body mechanics at work?
Bring your team up to speed in 2020 by bringing the Peanut Ball Skills training to your hospital or birth center!